How to Change Refresh Rate to 96Hz on Galaxy S20 Series
Samsung introduced higher screen refresh rate with the launch of the Galaxy S20 series. Compared to other similar class smartphones, Samsung introduced a 120Hz panel which is definitely better than 90Hz screens. But, higher refresh rates cause faster battery drainage. Also, Exynos 990 process which is used in Galaxy S20 series, consumes more power compared to Snapdragon 865. However, Samsung has added a fallback feature using which you can add some extra juice to your battery life. This feature is, hidden 96Hz screen refresh rate on Galaxy S20 devices which offers almost the same screen smoothness but without being tough on battery. This tutorial shows you how to enable 96Hz Refresh Rate on Galaxy S20 Series.
How to Enable 96Hz Refresh Rate on Galaxy S20, S20+, S20 Ultra
Best thing about this feature is that you don't need to root your device to enable this feature. All you have to do is just run a few ADB commands and you are done. Apart from that, the display on the Galaxy S20 series supports 4 modes: 48Hz, 60Hz, 96Hz, and 120Hz. So you can switch to any mode, but we highly recommend using 96Hz screen refresh rate for striking the fine balance between screen smoothness and battery life. But you can also enable 60Hz refresh rate on Galaxy S20 series smartphones using the same commands. Just follow these steps.
Step 1
First of all, we have to enable Developer options. To enable Developer Options on your Galaxy S20 series, open Settings and navigate to About phone -> Software Information. Now, tap on Build number seven times to activate the menu.
You can check this tutorial to see detailed steps for enabling Developer options in Android smartphones
Step 2
Now, Developer Settings will appear in Settings, just below the "About Phone" menu. Open it and enable "USB Debugging".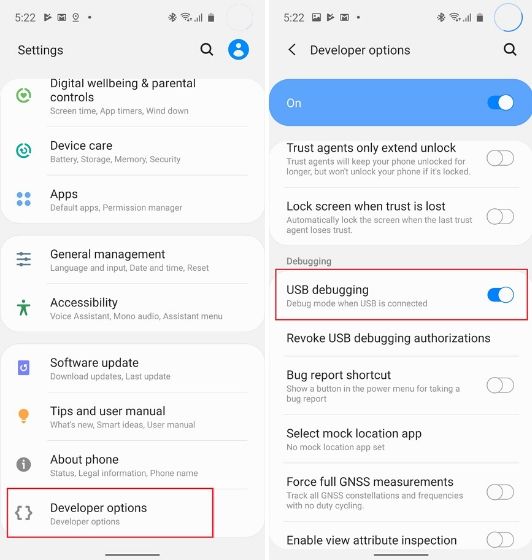 Step 3
After enabling USB debugging, connect your smartphone to your computer and set up ADB. In case you don't know anything about ADB, just follow our detailed tutorial on how to install ADB on Windows, macOS, Linux and Chrome OS. Finally, run adb devices command to check if your smartphone is properly connected to the computer.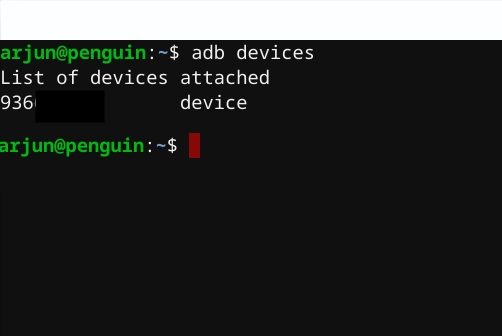 Step 4
Now that you have set up ADB, execute the below commands one by one to enable 96Hz Screen Refresh Rate on your Galaxy S20 device. Keep in mind, the terminal will not give any output.
adb shell settings put system peak_refresh_rate 96.0 

adb shell settings put system min_refresh_rate 96.0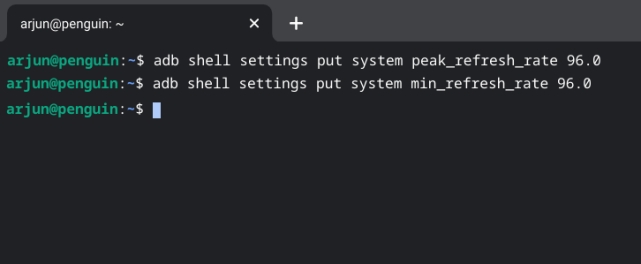 Step 5
To check if you have successfully moved to 96Hz refresh rate, open testufo.com on a web browser. It will show you the current refresh rate which should hover around 96Hz.
You can also enable 60Hz refresh rate using same commands. Just replace 96.0 with 60.0 in adb commands. However, 60Hz option is available in Display Settings, you can enable 60Hz refresh rate from there also.
Revert back to 120Hz or 60Hz
To move back to 60Hz or 120Hz refresh rate, open Settings -> Display -> Motion smoothness -> choose 60Hz or 120Hz. In case, the system setting is not working then replace 96 with 120 or 60 in the above ADB commands and execute them one by one. You will be back to the default screen refresh rate on your Galaxy S20 device.
Reduce Screen Refresh Rate to 96Hz and Save Battery on Galaxy S20 Series
Above tutorial explained how you can access and enable the hidden 96Hz mode on your Galaxy S20 series device. It would have been best idea, if Samsung had provided the 96Hz mode in the Settings menu itself along with 60Hz and 120Hz options. It would have made a lot of sense: almost the same level of smoothness without affecting battery life. Anyway, you can go ahead and change the refresh rate to 96Hz manually via adb commands. Should you face a problem, feel free to comment down below and let us know.