How to Use/Install Skype on Chromebook
While there has been a lot of Zoom, Skype is still one of the most popular video conferencing application. It was very popular even before Zoom emerged in the video conferencing market. What makes Skype superior is, clean interface, smooth video calls and some other useful features. It is also available on a range of platforms and devices. And with the web-first approach, Microsoft has made it easy to use Skype on Chromebook. However, there some other ways to get Skype working on Chromebook. We are going to discuss 3 quick ways using which you can use Skype on Chromebook.
3 Ways to Get Skype Working on Chromebook
In this article we will explain 3 ways using which you can get Skype working on your Chromebook. The first one is the best solution so far, a Web App which allows you to access Skype on a Chromebook. Secondly, you can install Android App of Skype and third, a Linux app. Let's discuss all the three methods in details.
1. How to Use Skype on Chromebook Using Web App
Besides offering native apps for Skype, Microsoft has also introduced web app. Now, you can reliably and easily access Skype on a Chromebook using the Chrome browser. And the best part is that it supports call notifications, screen sharing, and the Skype Meet Now feature. So, you won't be missing any of the major features from the desktop app.
Step 1
Open Chrome on your Chromebook and go to web.skype.com and log in with your Microsoft account.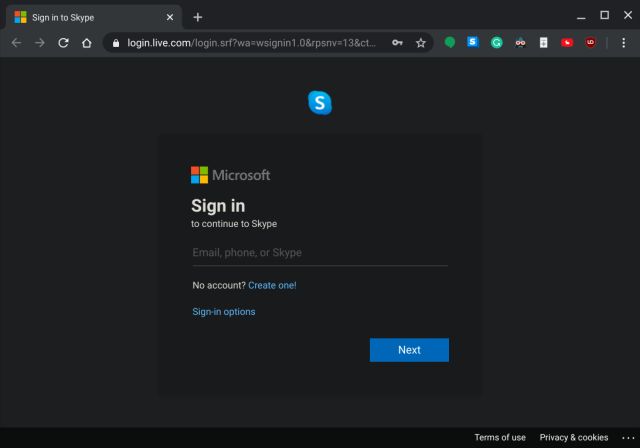 Step 2
After login, you will immediately be taken to the main dashboard which is quite similar to the desktop app. You can do almost everything that you do on desktop version like chat, make a video call, start a group call with Skype Meet Now, and more.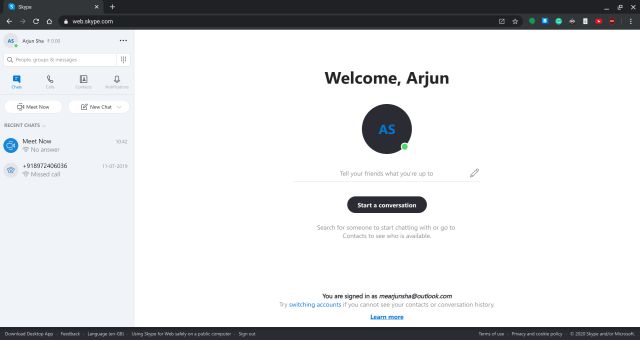 Step 3
The web app of Skype on Chromebook now supports screen sharing as well with features like floating window, real-time subtitles, and a lot more.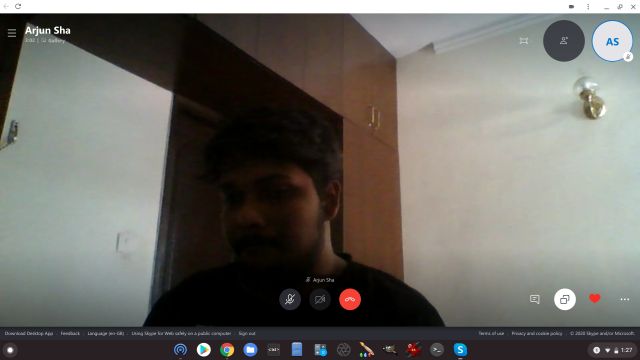 Step 4
You can also enable notifications from the padlock icon on the address bar to receive video call and message notifications. But for receiving notifications, you need to keep Skype open in the background.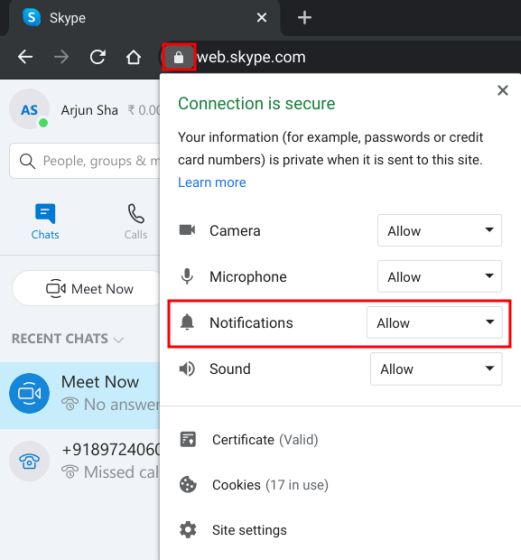 Step 5
You can also create a standalone app to make it easier to manage notifications and Skype overall. Click on the 3-dot menu on Chrome and go to More Tools > Create Shortcut. Finally, enable Open as window and click on Create. Now Skype Web will behave more like an app, with a separate icon in the launcher.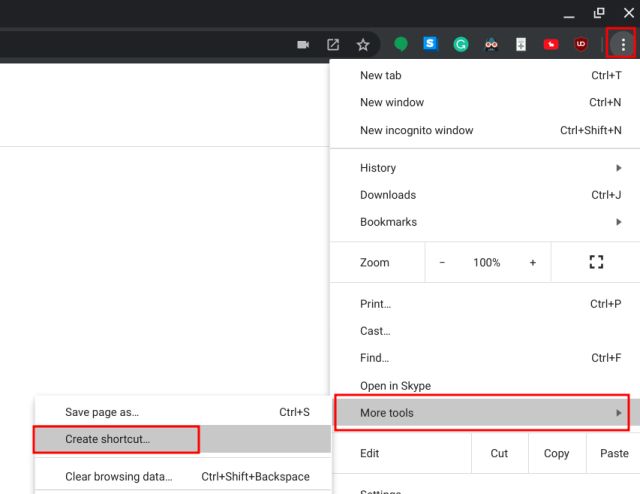 2. How to Install Skype Android App on Chromebook
In this section we are going to see how to use Skype on Chromebook using Android App. For installing Skype Android app, you need to have Play Store support on your Chromebook. For us, it worked pretty well, but in Android version, you won't have access to some of the desktop features like background blur and real-time caption. But with the Android app, you will get full support for notifications even when app in not open. Also, in the Android app you can access Skype chats without having an active internet connection.
Step 1
First, open the Play Store on your Chromebook and install Skype (Free).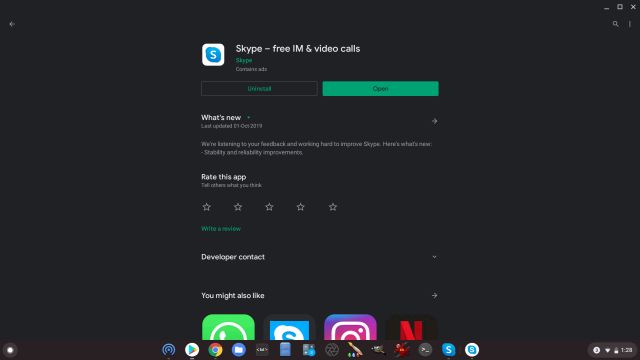 Step 2
Now, log in to Skype App using your Microsoft account and you will have access to most of the major features of Skype. The Android app is really good idea if you want all-time notification.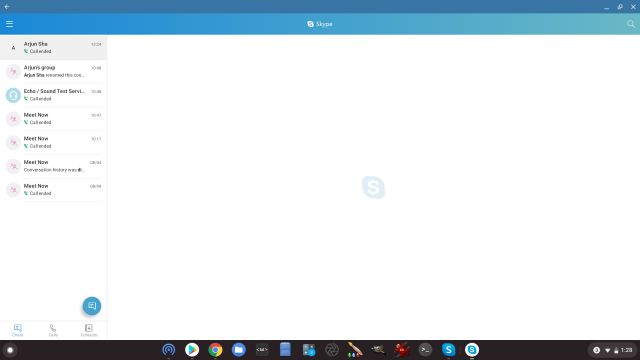 3. How to Install Skype Linux App on Chromebook
Finally, let's see how to get Skype working for Chromebook using Linux App. Also, the Linux app is a solid desktop app on Chromebook. Almost everything works quite well without any tweaking required. You will receive notifications even if the app is closed. But there is one big problem. Linux on Chromebook still does not have access to the webcam. So, no video calling on Skype via Linux App. However, the microphone works fine. So, if you want Skype for voice calls and chats, the Linux app is a good option on Chromebook.
Step 1
First of all, you need to set up Linux on your Chromebook. If you don't see the Linux option, it means your Chromebook doesn't have support for Linux.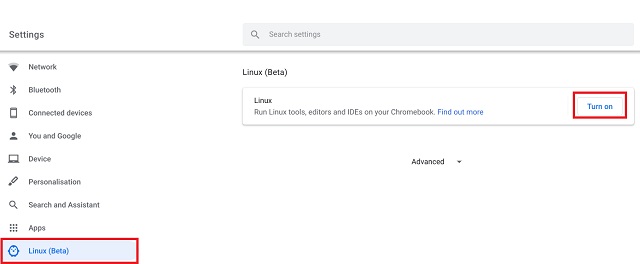 Step 2
After enabling Linux support on Chromebook, open the Skype download page and click on Get Skype for Linux DEB from the drop-down menu. You will get the Skype installer on your Chromebook in DEB (debian) format.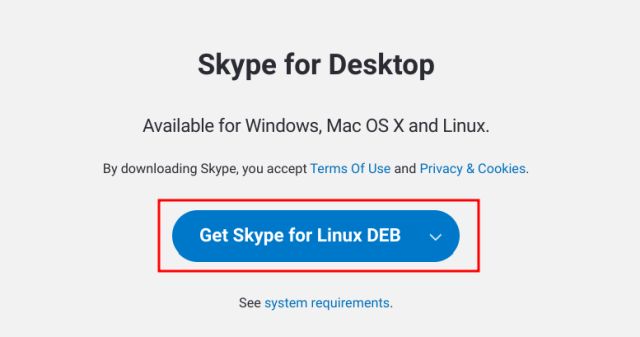 Step 3
After downloading the installer, open the Files app and double-click on downloaded file to install Skype on your Chromebook. Next, click the Install button.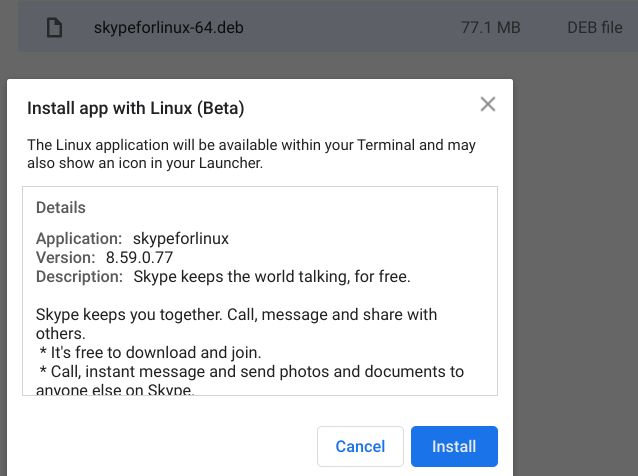 Step 4
After the installation, you will find Skype under the Linux folder inside the launcher. Open it, sign in using your Microsoft account and you are good to go. You may face problems initially, just close and re-open Skype app a few times.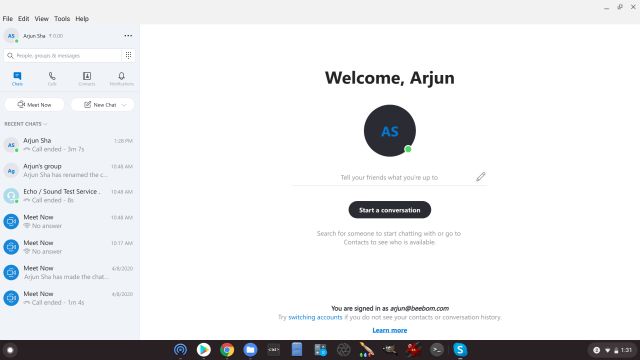 Install and Use Skype on Chromebook
In above article we explained three ways to get Skype working on your Chromebook. However, you won't get video calling option in Linux app method because Linux on Chromebook doesn't have access to webcam. However, you can use native web app for Skype for best experience which now includes screen-sharing and real-time caption. And you can also create a Skype shortcut to launch it like an app and receive notification even when the app is closed. Similarly, if you have Play Store support on your Chromebook, you can also install Android app for Skype which provides you all options that are available on Android. You will also get real-time notifications using the Android app. Hope you like this tutorial. Feel free to drop your suggestions and queries in the comment section below.