How to Disable Software Reporter Tool and Make Google Chrome Faster
Chrome is available across platforms. And it is known for resource consuming, battery draining, and consequently affecting the system performance. Why does Chrome do this? Well, there is a hidden tool called the Chrome Software Reporter Tool which uses the CPU abnormally. It sometimes takes a huge amount of CPU and makes the system go unresponsive.
However, Google, in it's blog post said that Chrome Software Reporter tool is for protecting users from malware and harmful extensions. But it has been reported by many users that it keeps running in the background and affects the performance very much. You might be wondering what Chrome Software Reporter Tool is and what does it do? In this tutorial, we are going to describe this issue in details. We will also discuss two methods using which you can disable Chrome Software Reporter Tool permanently.
Chrome Software Reporter Tool
Technical users can check and manage their computers on their own but normal users can usually be tricked into installing malware from internet. Which causes the Chrome to gets infected by harmful extensions and software that change the search engine, add a malicious toolbar, replace the new tab with a custom webpage, and bring a score of ads and redirects from all corners. All these malicious softwares hijack the browser and may cost the user dearly. To combat this issue, Chrome comes with a Software Reporter Tool that scans the installed programs on your computer in the background, and removes the harmful ones. Basically, Chrome Software Reporter Tool works like antivirus, but its scope is only limited to the smooth functioning of Chrome.
Many users have reported that Chrome Software Reporter Tool constantly runs in the background and eat CPU resources. Somtimes, it usually takes around 30-60% of CPU even when the computer is not in use. A user raised the issue on Twitter and found that Chrome was even scanning files inside the Documents folder. It became evidently clear that Chrome Software Reporter Tool is scanning the whole hard disk including personal files and Windows Registry which is eventually spiking the CPU usage.
To calm the concerns, Justin Schuh, the engineering director of Chrome Safety, responded to the same Twitter thread.
While that's reassuring, Chrome should ask for user opt-in explicitly before scanning the whole hard disk. Apart from that, high CPU usage by Chrome Software Reporter Tool is a huge problem for many users, even for those with beefy PC specs. At the very least, Chrome should have an option to disable the background scan for users who can manage their PC on their own. This tutorial shows how to disable Chrome Software Reporter Tool manually.
Disable Chrome Software Reporter Tool
We are going to explain two simple ways using which you can easily disable the Chrome Software Reporter Tool. First, we can revoke the elevated permission of the Software Reporter folder so that Chrome won't be able to access it. And the second method is a Registry tweak. However, the first method would be enough to stop the background scan and solve this issue. We do not recommend you to disable the Chrome Software Reporter Tool as it may leave your Chrome unprotected against malicious extensions.
1. Remove Inherited Permissions
Step 1
Open the File Explorer and go to the C drive. Then, click on the View tab and enable Hidden items. Now you can access the hidden files and folders.
Now, open the Users folder and open your user folder. From there, go to below mentioned path.
AppData > Local > Google > Chrome > User Data
Step 2
In that folder, look for the SwReporter folder and right-click on it. Next, open Properties.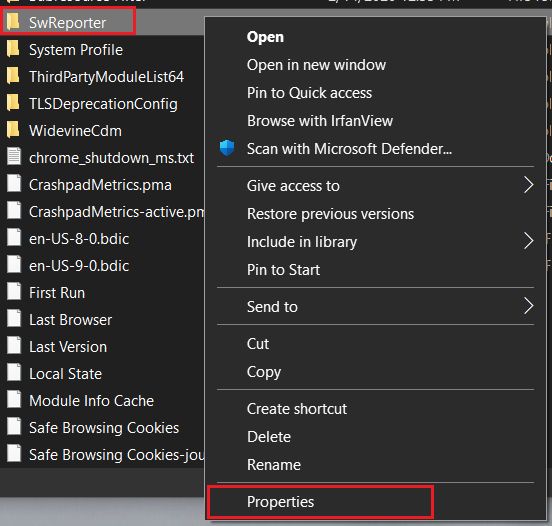 Now, move to the Security tab and click on Advanced.
Step 3
Here, click on Disable Inheritance and then click on Remove all inherited permissions from this object.
Finally, click on Apply and then OK button. Now, you have successfully disabled Chrome Software Reporter Tool from running in the background and it won't spike your CPU again.
Let's have a look at second method, which is Registry editing method. So, if you are not very used to with editing Windows Registry, you are suggested to stick to first method explained above. However, if you are confident enough, you can proceed with second method to disable Chorme Software Reporter Tool using Registry Editor.
2. Modify Chrome Registry
Step 1
Go to Start and search for registry. Now, select Registry Editor from search results and click on Run as administrator.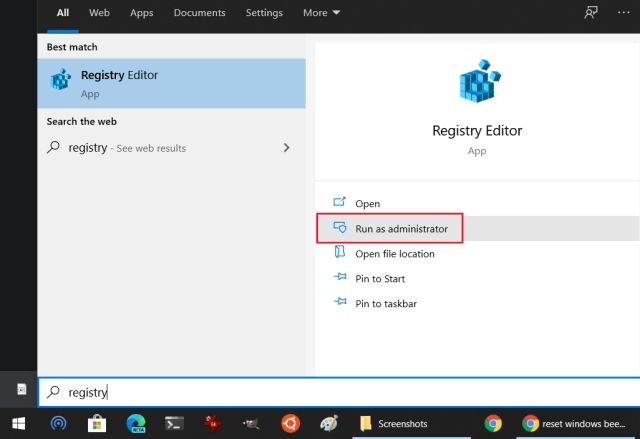 Copy the below path and paste it into the Registry address bar and hit enter.
Computer\HKEY_LOCAL_MACHINE\SOFTWARE\Google\Chrome

Step 2
Once you are in the Chrome folder in Registry Editor, right-click in the right-pane and select New > DWORD (32-bit) Value.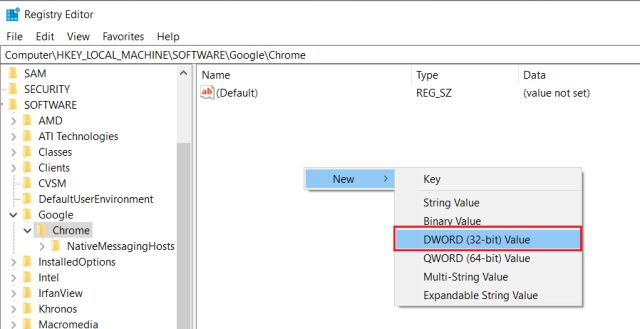 After that, name it ChromeCleanupEnabled. Having done that, double-click on it and enter "0" in the value data. Now, click on the OK button.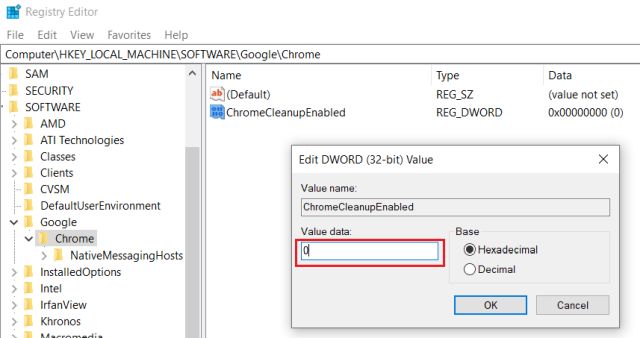 Step 3
Similarly, create another new DWORD (32-bit) Value just like you created previously and name it ChromeCleanupReportingEnabled . Here too, enter "0" in the Value data field.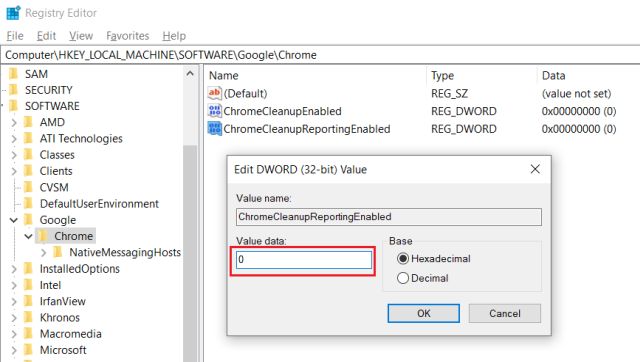 Now, close the Registry and restart your computer. This time, Chrome Software Reporter will be disabled and it won't start in the background keeping the CPU calm and quiet.
Improve System Performance by Disabling Chrome Software Reporter Tool
The Chrome Software Reporter Tool has been causing troubles to users. It runs in the background and hogs CPU and memory. The two methods we explained in the article above should resolve this issue for your. Using these methods, you can permanently block it from running in the background. However, please note that the tool is there for a reason and it's to safeguard your web experience. So if it's not affecting your computer's performance, we suggest you leave it as it is. Let us know your suggestions and queries in the comment section below.
See Also: How to Fix/Restore Browser Settings changed by malicious extensions/software?