How to Enable WhatsApp Dark Mode on Android and iPhone
It's been a long time waiting for much anticipated WhatsApp dark mode. Now after a lot of hype and beta testing, WhatsApp has finally started to roll out the Dark Mode on both Android and iOS. This update will soon be available globally. With this update, WhatsApp is getting a fresh look and feel to a familiar experience. Dark mode will not only reduce eye strain in low light environments, but may also increase battery life. So, if you are interested in enabling the dark mode in WhatsApp, here's how you can do it on your Android device or your iPhone.
How to Enable WhatsApp Dark Mode on Android
If you're using a phone running Android 10 and later, you just need to enable system-wide dark theme and WhatsApp will automatically switch to Dark Mode. You can turn on system-wide dark theme in system settings. However, if you are using a device running Android 9 Pie or lower, you'll have to enable dark mode feature from within WhatsApp settings. Let's have a look at how to enable WhatsApp dark mode on Android 10:
a) Enable WhatsApp Dark Mode on Android 10 and above
The exact location of the 'Dark Theme' setting may vary from device to device on Android 10 depending upon the manufacturer and customization in ROM. This tutorial gives you a very decent idea of how you can enable System-Wide Dark Theme on any device running Android 10 and above. The following screenshots are from our Pixel 2 running Android 11 Developer Preview 1.
Step 1
Go over to Settings > Display.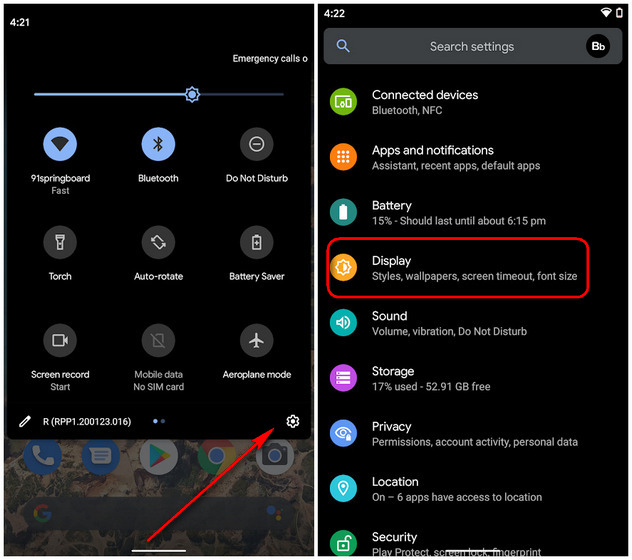 Step 2
In Display settings, you will see options for changing settings related to brightness, wallpapers, and Dark theme. Now Switch on the 'Dark Theme' option if it isn't enabled already.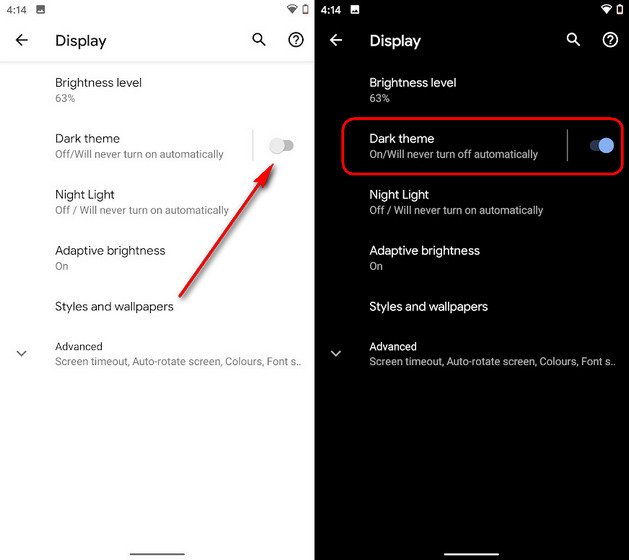 b) Enable WhatsApp Dark Mode on Android 9 and Lower
As we mentioned already, on the devices running Android 9 or older versions of Android, you need to switch on WhatsApp Dark Mode from within WhatsApp Settings. Follow these steps for the same.
Step 1
On the WhatsApp homepage, tap on the Menu button (three vertical dots) on the top-right corner and tap on the 'Settings' option.
Step 2
Now tap on the Chats option and then tap on Theme.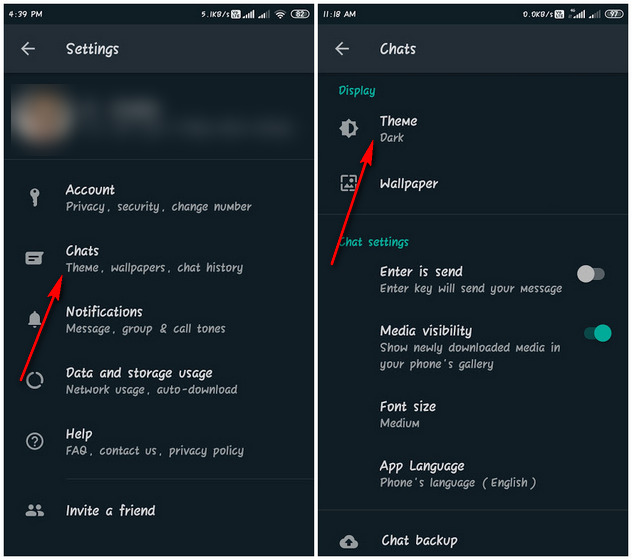 Step 3
You can now switch between the Light and Dark modes as you want. To enable WhatsApp dark theme, tap on Dark and then tap on OK.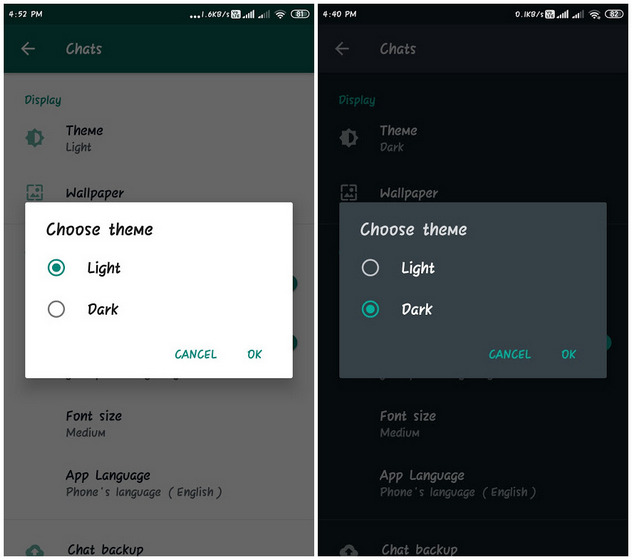 How to Enable WhatsApp Dark Mode on iOS
Like we have done on Android 10 or higher, similarly, on devices running iOS 13, the "WhatsApp Dark Mode" can be enabled from the iPhone's system settings. Follow these steps to enable dark mode in WhatsApp on iPhone:
Step 1
Go to the 'Settings' app and then tap on the 'Display and Brightness' option.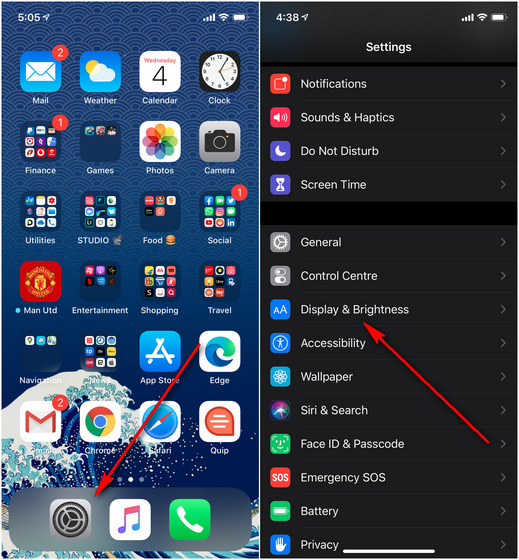 Step 2
Now, in Display & Brightness settings, enable the system-wide Dark Mode if it's not turned-on already.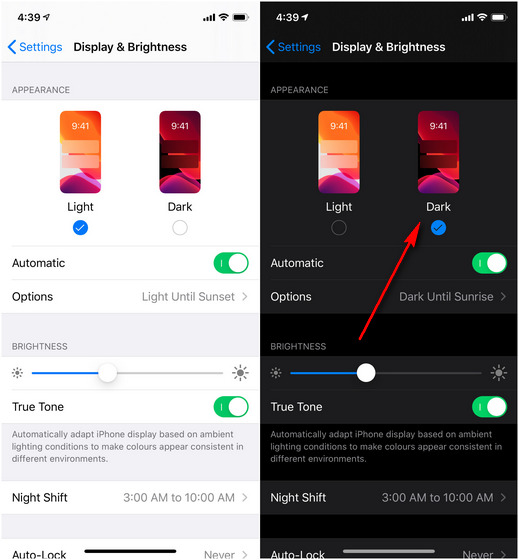 Step 3
Now, dark mode has been enabled for WhatsApp. As you can see, WhatsApp dark mode is now ready to be used.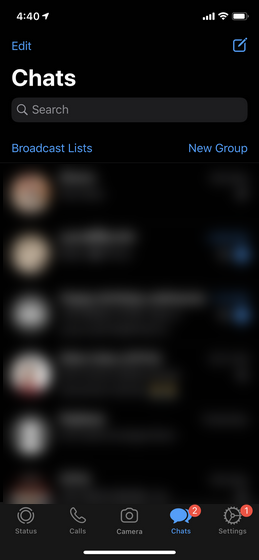 See Also: How to Check if Your Smartphone Has NavIC Support
Enable WhatsApp Dark Mode on Your Android Device or iPhone
This tutorial was for Enabling WhatsApp Dark Mode on your smartphone running Android or iPhone. This process is quite simple irrespective of whether you are using Android or iPhone. Now you know how to enable dark mode in WhatsApp, go ahead, enable the new WhatsApp dark theme on your device and let us know in comments how do you like WhatsApp's new Dark mode the much-anticipated feature.