How to Auto-Delete Your Google Account
In this age of technology, almost everyone has got a Google account. The Google account is one of the services that collects the most amount of data about your digital activity. Lots of the apps and services that are linked to Google account, it is very clear that Google account plays a significant role in everybody's life unless you're someone who stays away from anything Google-related which is almost impossible. Well, have you ever thought about what is going to happens to your Google account when you pass away? For your information, let me tell you that all of your precious data stays on Google servers. Which will be there forever or until someone deletes from there or Google does it itself.
However, Google itself provides you a tool called "Inactive Account Manager" using which you can decide and configure what will happen when you stop using your Google account or in the unfortunate and inevitable event of your death. In this tutorial, we will be showing you, how you can set up Inactive Account Manager to delete your Google Account.
How to Auto-Delete Your Inactive Google Account?
Step 1
First, you need to login to your Google Account. Then switch to "Data & personalization" from the side menu and click on Make a plan for your account from "Download, delete, or make a plan for your data" section. You you can simply click this link to access the Inactive Account Manager.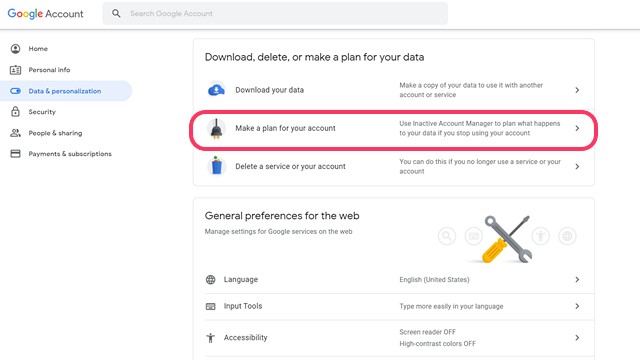 Step 2
You'll now see the Inactive Account Manager landing page where you can find a brief explanation of the feature. Click on the Start button to start the process.
Step 3
You will now be asked to set the waiting period after which your account will be considered inactive. You can select from available waiting period options which are 3 months, 6 months, 12 months, or 18 months. Please note that you'll have to confirm your email address and verify your phone number to proceed further.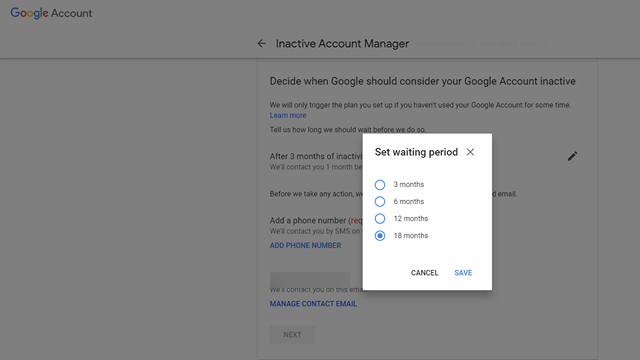 Step 4
In the next step, there is an option using which you can notify up to 10 people when your Google account becomes inactive. You can optionally allow your loved ones to access your Google account data. Click on Add Person to enter the email address of your trusted contacts. The trusted contacts/persons can download your data, like images on Google Photos, within 3 months.
Step 5
In case you require, you can also set up an AutoReply message that will be sent to all received mails after your account gets inactive. To configure an autoreply message, click on the Set AutoReply button.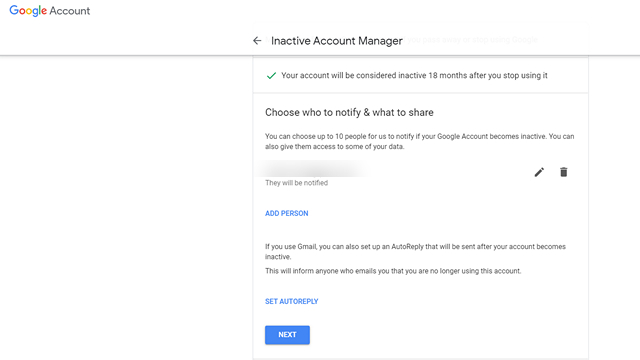 Step 6
Finally, turn ON the switch next to "Yes, delete my inactive Google Account" to auto-delete your inactive Google account. Your account will automatically get deleted three months after it becomes inactive.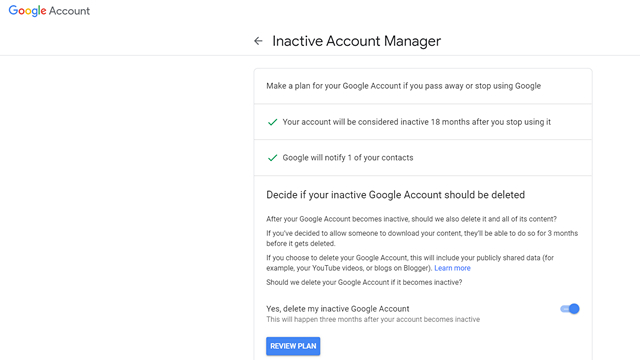 Step 7
Now, it's time to review the settings. Click on the Review Plan button to get an overview of your account deletion preferences and click Confirm Plan to save your preferences.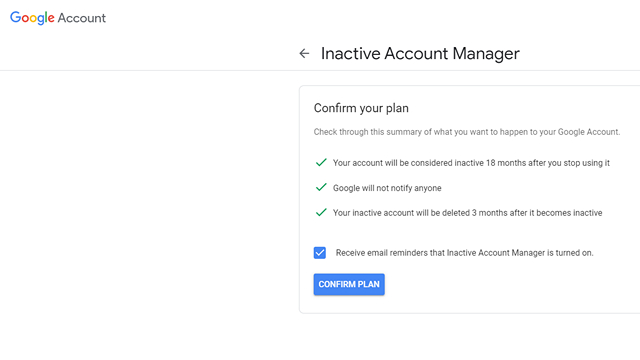 Auto-Delete Your Inactive Google Account
So, now you don't need to worry about the data you left behind when you stop using your Google account or in case of your unfortunate death. You can easily setup your Google account to auto-delete your data after specific duration of inactivity. Do let us know if you found this tutorial helpful in the comments.