How to Check Apple M1 Compatibility for Your Mac Apps
Apple has recently launched brand new "in-house Apple M1 chip" powered MacBook Air, MacBook Pro, and Mac mini models. Early reviews show that Apple has done great job with these new Mac models. However, the software has not caught up with the hardware yet. Most of Mac apps are designed for Intel x86 architecture, and they won't run natively on this new chip. So, if you are looking for switching to new M1 Mac, you should first check the app compatibility of your most-used apps. This tutorial shows you, how to check Apple M1 compatibility for your Mac apps.
Checking Apple M1 Compatibility for Your Mac Apps
This is not first time Apple is trying this, it has already tried two chipset transitions in the past. So, it looks like Apple was prepared for this new transition as well. To tackle the issue of "Intel apps don't run natively on Apple M1 Macs", Apple has released a built-in translation layer called Rosetta 2, which allows users run apps designed for Intel chips.
The reports suggest that the new Apple M1 chip is so powerful, that in most of the apps, you won't see any performance difference. This big achievement of Apple shouldn't be taken lightly.
So, if you are using resource-heavy apps, you might encounter some problems on M1 chips. It will be a better idea to check your apps' compatibility before get your new Apple M1 Mac. Let's see how you can do this:
See also: Check out more tutorials for Mac.
Check App Compatibility Before Purchasing the Apple M1 Mac
Step 1
First of all, visit this website. Here you can see the list of apps that are compatible with Apple M1 Mac.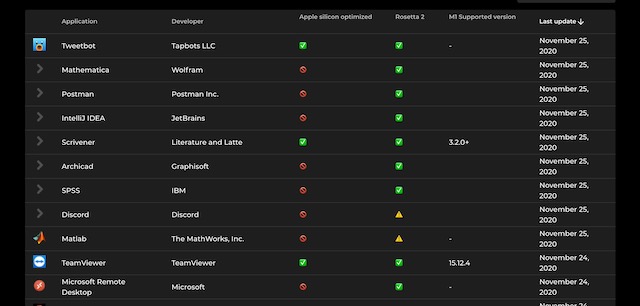 Step 2
To check the M1 compatibility of your desired app, simply type its name in the search field.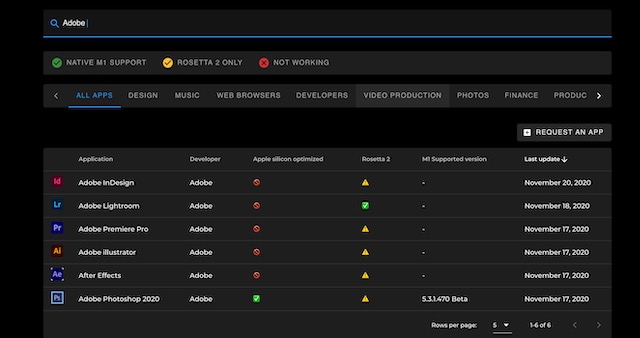 Step 3
Here, you will see the compatibility status and you can also see how the incompatible apps are working on Rosetta 2.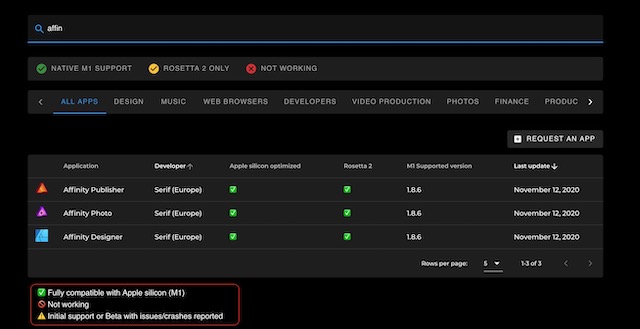 The legend displayed at the bottom tells you meaning of signs used.
Check App Compatible on Apple M1 Mac
So, what if you have already purchased the Apple M1 Mac and want to check which apps are native for M1 and which are running on Rosetta 2? Here is another easy way to check Apple M1 compatibility of your apps.
Step 1
First, click here to download and install the "Silicon" app on your M1 Mac. Surprisingly, it's a free and open-source app, which is usually not the case for Apple (pun intended).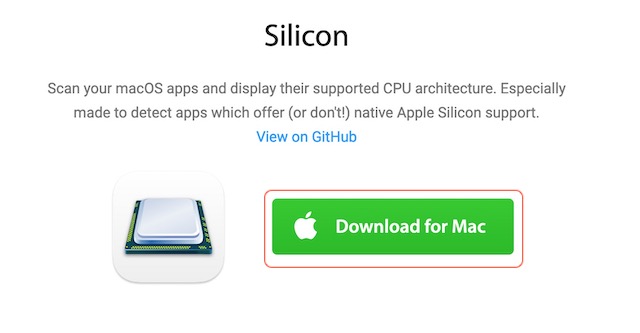 Step 2
Launch this newly installed Silicon app and click on "Open" to grant it required permissions.

Step 3
App will check for any available updates. If there are updates available, first click on Install to update the app.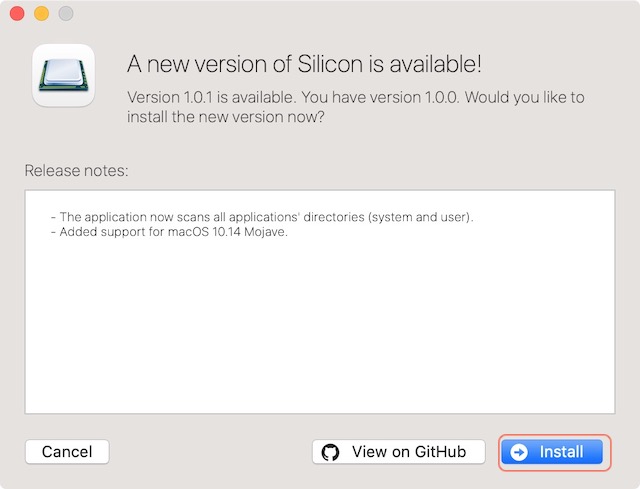 Step 4
When you are done, click on Start Scanning button. It will scan your Applications library to locate all the apps.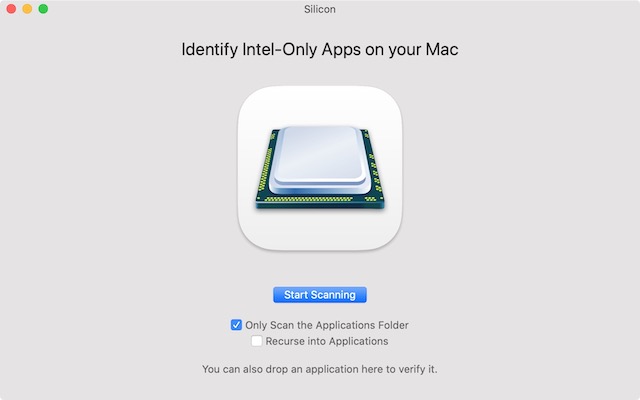 Step 5
Following screenshot shows the apps of an old Intel Mac that is not running any universal app. That's why all the apps displayed here are compatible with Intel only.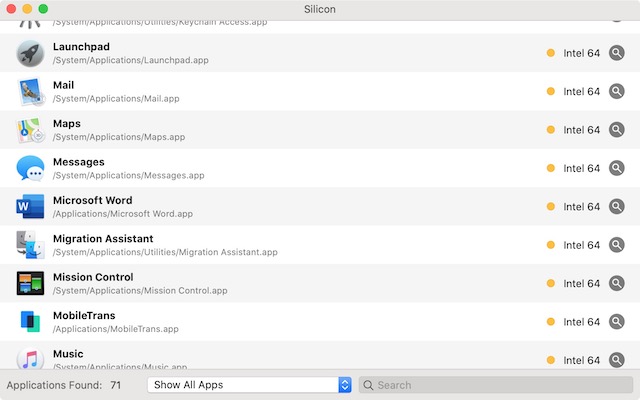 When you run Silicon app on an Apple M1 Mac, you will see some apps that are Universal (it means, they can run natively on both Intel and Apple M1 Macs) and some that are Intel only.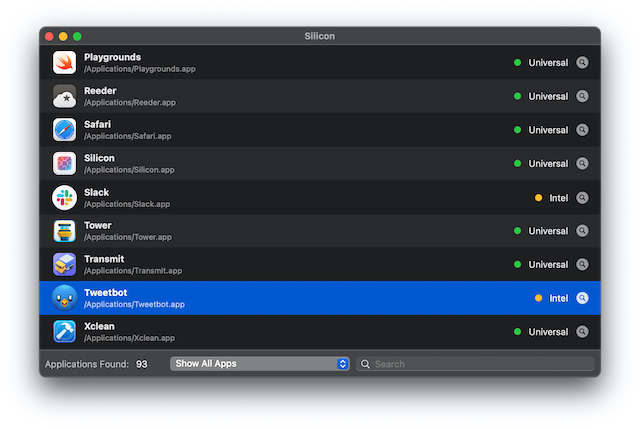 The Intel-only apps are running using Rosetta 2 translation layer.
Check Apple M1 App Compatibility
In this tutorial, we have explained two methods for checking Apple M1 app compatibility. The first method we explained, lets check your app compatibility before you buy the Apple M1 Mac. And the second method is useful for the people who have already purchased Apple M1 Mac. Using second method, you can check the list of apps that are running on Rosetta 2 translation layer. Hope you found this article useful. Share it with your friends and let us know your thoughts in comments below.