How to Install MIUI 12 on Your Xiaomi Device
Xiaomi has recently released the first closed beta of MIUI 12 for several devices. Normally, closed betas are released in China first and then distributed to rest of the world. So, if you are not from China, it may take some time before you are going to get the MIUI 12 build officially. However, in this tutorial, we are going to explain, how you can install MIUI 12 on your Xiaomi device right now. Follow this step by step guide.
What we need?
Unlocked Bootloader: First thing you need is an unlocked bootloader. If you have not done that yet then you can try Signing with an old Mi account that you have used for unlocking bootloader in the past. We tried this method on Redmi K20 and the bootloader was immediately unlocked. Also, keep in mind, unlocking the bootloader will completely erase your device so back up all your important data.
ADB: You also need to set up ADB on your computer.
TWRP Recovery: Download TWRP from the official website for your particular device. You can also look for the latest TWRP build from XDA forums for your Xiaomi device.
MIUI 12 ROM: Download the MIUI 12 Recovery ROM for your device. Download links are available down below.
Download MIUI 12 Recovery ROM
How to Make Chinese MIUI 12 ROM Compatible with Indian Xiaomi Variants [Only For K20 Pro, K20 and Poco X2]
For most of the devices launched in India, the ROMs are quite similar between Chinese and Indian variants, but there are differences in codenames for some devices. For example, K20 Pro is codenamed as 'raphael' in China and 'raphaelin' in India. Similarly, K20 is codenamed as 'davinci' in China and 'davinci' in India. Finally, Poco X2 which is actually a rebranded Redmi K30 is codenamed as 'phoenix' in China and 'phoenixin' in India.
You can see, 'in' is appended in all the Indian codenames for above mentioned dvices. So all you need to do is, just add 'in' at the end of the codename and you will be good to go. The Chinese MIUI 12 build will become compatible with Indian variants after changing the codename. This will also solve 'Error 7' on TWRP while installing MIUI 12. Follow these steps to change the codename.
Step 1
First, download the MIUI 12 ROM for your device (K20 Pro, K20, or Poco X2) from the links given above. Download the file on your computer and extract is using WinRAR (Free). Right-click on the MIUI 12 ROM and click on Extract to miui….
Step 2
After extracting the zip file, open the extracted folder and go to META-INF > com > google > android folder. Here, right-click on updater-script file and select open with Notepad.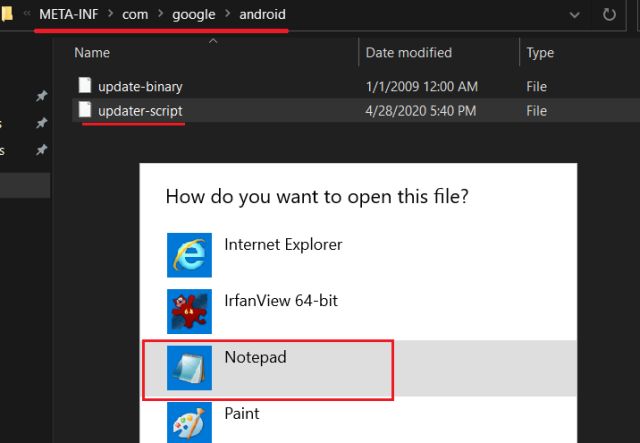 Step 3
In the very first line of the file, append 'in' in the codename. For example, here we have replaced 'davinci' with 'davinciin'.
Now, save the file by going to File > Save. Alternatively, you can press Ctrl + S on keyboard. Close the Notepad.
Step 4
Now, go to the parent folder (where you can see all the extracted files and folders), select all the files and folders. Next, right-click on the selected items and select Add to archive…
Choose ZIP as your Archive format and click on the OK button.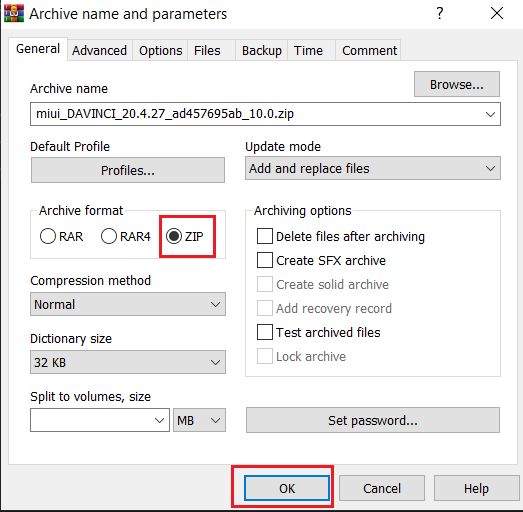 Step 5
It may take few minutes to create the ZIP file. It will be created in the same parent folder. Now, this is your updated MIUI 12 build customized for Indian variants of Xiaomi devices and you can now transfer it to your phone for installation.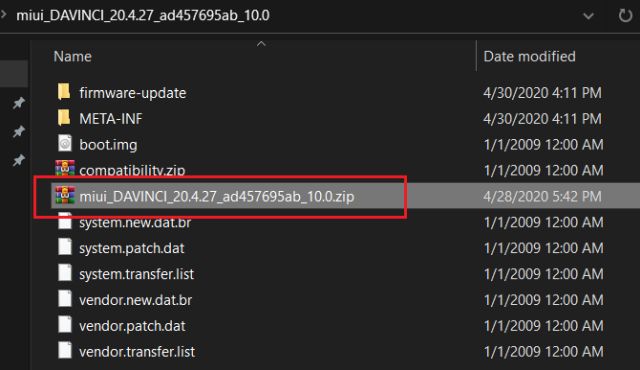 How to Install MIUI 12 on Any Xiaomi Device
Here, we are assuming that you have already downloaded the MIUI 12 ROM, TWRP and have unlocked the bootloader. Also, we strongly suggest that you back up all your personal files and folders as this process will wipe the whole device.
Step 1
First of all, transfer the MIUI 12 ROM to your Xiaomi device. Then, connect your device to the computer and start the ADB console. Now, run following command to start your device into the Fastboot Mode.
adb reboot bootloader

Once you are successfully booted into the Fastboot mode, run fastboot devices command to check the connection. If it returns a serial number then your device is successfully connected to the computer.

Step 2
Now, it's time to install TWRP recovery in your Xiaomi phone. Run the following command to install TWRP. Make sure to rename the TWRP file to recovery.img for simplicity and put it in the same ADB folder. Otherwise, you will have to provide full file path in place of recovery.img.
fastboot flash recovery recovery.img

After installing TWRP, disconnect your device from the computer. Now, press and hold Volume Up and Power buttons together. Once the device reboots and shows Mi/Redmi/Poco logo, release the buttons. If your TWRP installation was successful, you will now directly boot into TWRP.
You may also like:
Step 3
In TWRP recovery, go to Wipe > Advanced Wipe and select Dalvik, Cache, System, Data, and Vendor. Make sure you do not touch Internal Storage as it stores the MIUI 12 ROM file. Next, swipe to wipe. Below image is representational only.
Step 4
After wiping the device, go to Install and select the MIUI 12 ROM file and swipe to install.
After flashing the ROM, go to Wipe again and tap on Format Data. Now, type yes and it will completely erase the device. This step is required to get out of the encryption loop.
Step 5
Finally, tap on Reboot System in TWRP and you will boot straight into MIUI 12. If TWRP throws "No OS installed" error, do not panic, just reboot the system anyway and you will boot into MIUI 12.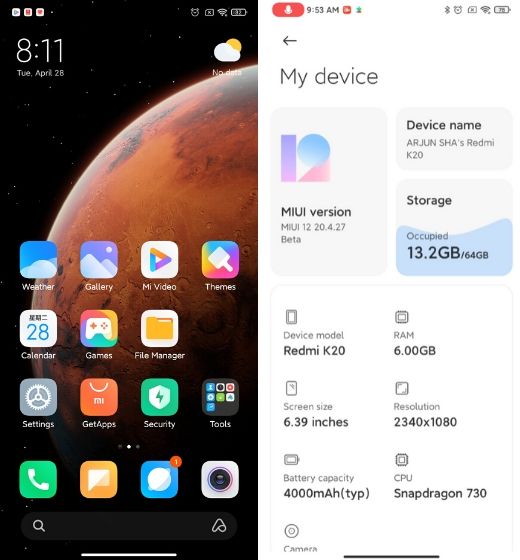 Installing MIUI 12 Beta on Your Xiaomi Phone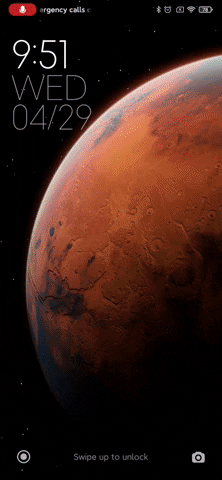 In our testing so far, we didn't find any bugs. The UI/UX is a major step-up from last year's MIUI 11. The new gestures, control center, and animations are pretty good. We recommend that you install MIUI 12 right now. If you talk about the performance, we didn't face any lag or freezing behavior in MIUI 12 beta. Also, the battery life is pretty good. You can also change the language to English and install Play Store and other Google services right from GetApps.
Hope you liked our tutorial on how you can install MIUI 12 and experience the new UI on your Xiaomi device. We have tried to explain the process via steps, so, make sure you read the instructions fully. Using above tutorial, you can boot MIUI 12 on your Xiaomi device without any problems. Apart from the mentioned devices, Xiaomi has not released MIUI 12 ROM for Poco F1. We hope Xiaomi will soon release the MIUI 12 build for Poco F1 also. If you face any issues while installing MIUI 12 on your Xiaomi device, you can write them down in the comments section below.