How to Install MIUI 12 Super Wallpapers on Any Android Phone
With MIUI 12 first closed beta release, Xiaomi brought several new features to Xiaomi & Redmi devices. Among these new features, Super Wallpapers turned out to be the best feature. Super wallpapers are basically live wallpapers of Earth and Mars with awesome animation. We have experienced Super Wallpapers, when we installed MIUI 12 beta on our Redmi K20. We really liked Super Wallpaper feature very much. If you are willing to try it out, but don't have Xiaomi phone, you have landed at the right place.
In this tutorial we are going to show you how to install Super Wallpaper from MIUI 12 on any Android phone.
Installing Super Wallpapers from MIUI 12 on Any Android Phone
The process of installing MIUI 12's Super Wallpapers on any Android Phone is quite simple and straightforward. linuxct from XDA Developers ported MIUI 12's Super Wallpapers for all Android phones. In this tutorial, we have also explained on how to access Super Wallpapers on some incompatible Xiaomi phones.
Step 1
First, you need to download the Super Wallpapers ZIP file. Download links have been provided at the end of the post. After that, extract the ZIP file on your Android device. You will get 4 APK files, install all four Super Wallpapers APKs one by one.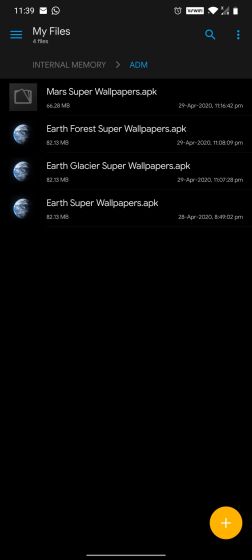 Step 2
After installing all APKs, install the Wallpapers app by Google (Free) from Play Store. This app will allow you to access Super Wallpapers you just installed on your device.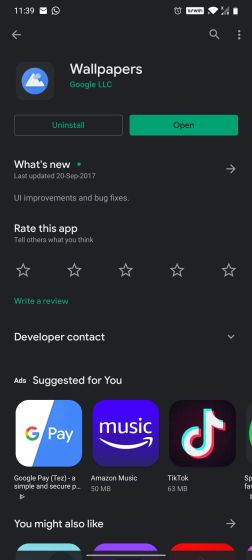 Step 3
Now, open the Wallpapers app you just installed and scroll down to the bottom. Here, you will find Live wallpapers. Open Live Wallpapers, and there you will find all the Super Wallpapers from MIUI 12 (that we installed using APK files). You can select the wallpaper of your choice and tap on Set Wallpaper. You will have your Super Wallpaper all set.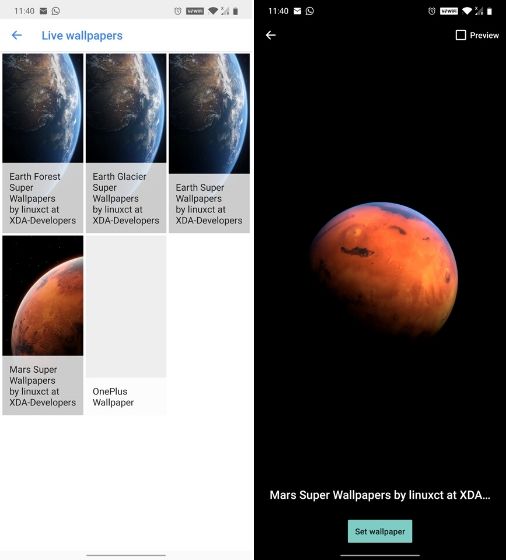 The Wallpapers app doesn't show the "Open" button on some Xiaomi devices.
Step 4
In such Xiaomi devices it is not easy to access the Super Wallpapers. If you are owner of such device, you will need to install an additional app, Activity Launcher (Free) to open the Wallpapers app.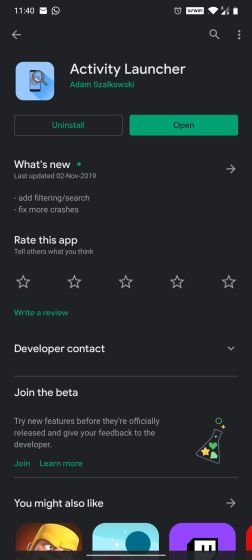 Step 5
After installing the Activity Launcher app, open it and search for Wallpapers. Expand the Wallpapers menu and tap on the first option. Most probably it will take you to the Wallpapers app. And from there you can easily access and set Super Wallpapers on your Android device. In case first option doesn't work for you, you can try other options as well. One of them will definitely take you to the Wallpapers app.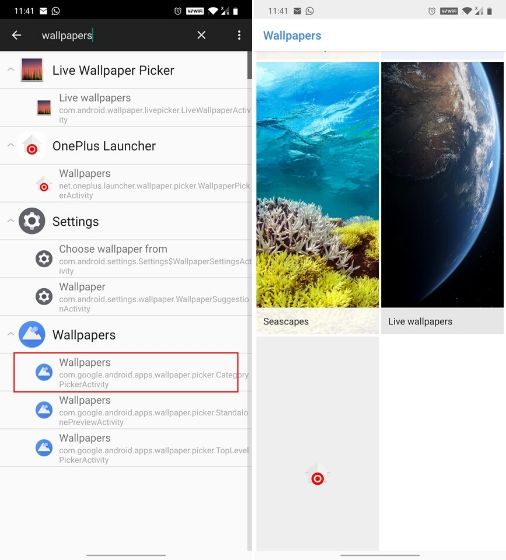 Step 6
If you want to quickly access Super Wallpapers on your device, you can also create a shortcut for Super Wallpapers. Tap and hold on the option that you used for opening the Wallpapers app and select Create shortcut. Now, you will have a shortcut on your home screen using which you can open the Wallpapers app whenever required.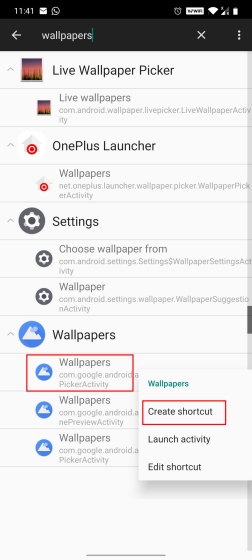 MIUI 12's Earth and Mars Live Wallpapers on any Android Device
Above tutorial explained, how you can install Super Wallpapers from MIUI 12 on your Android device. For us Super Wallpapers worked really well without any stutter or freezing behavior. Well that depends a lot on the configuration of the device you are using. So, the performance may vary from device to device. Also, the Super Wallpapers made very little to no impact on battery life which is a good sign. Hope you liked the tutorial. Feel free to comment below if you face any kind of problem while installing or accessing the Super Wallpapers.
Download MIUI 12's Super Wallpapers
Download Supper Wallpapers from MIUI 12 for installing on your Android phone. These have been ported by linuxct from XDA Developers. So, the credit goes to him. The downloaded zip file contains APKs of Super Wallpapers. Download, extract and install APKs on your Android phone.