How To Make Bootable USB Drive Using Command Prompt
Booting Windows from CD or DVD has become old fashion. These days, Bootable USB Drives are being used to install operating systems. Bootable Pendrives or USB Drives are more portable and easy to handle, while CDs or DVDs are not easy to handle, even a single scratch can ruin it. This tutorial shows how to make Bootable USB Drive Using command Prompt. This method doesn't require any third party software. You just need command prompt utility which is already available in all versions of Windows. Let's proceed.
What We Need?
A PC running Windows Vista or Higher.
USB Pendrive of at least 4GB capacity.
Windows Vista/7 DVD/ISO or setup files copied on any Local Disk Drive.
See also: How to Make Bootable USB using Rufus?
How to make Bootable USB Drive Using command Prompt?
Step 1
Insert USB drive in USB port and Windows Vista/7 CD into CDROM. Note down the Drive letters of both USB Disk and CDROM. In my case USB drive has letter E: and CDROM has letter D:.

Step 2
Click on Start and type cmd in search box. Right-click on cmd in search results and select Run as Administrator.
Now open the disk management utility. Type command diskpart and press Enter. This will open Diskpart utility. After that type following command and press Enter
list disk
Note disk no. of your USB Disk (it's 2 in our case). Now select your USB drive by entering command.
select disk 2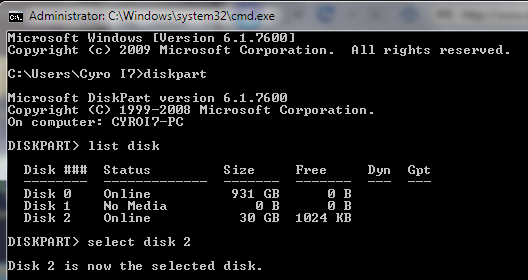 Step 3
Now clean your USB disk. Type clean and press Enter.
NOTE: THIS WILL DELETE ALL DATA ON YOUR USB DRIVE. IF YOU HAVE ANY IMPORTANT DATA ON USB DRIVE, THEN COPY IT SOMEWHERE ELSE BEFORE PROCEEDING.

Step 4
Select your USB disk by entering following command-
select disk 2
Replace 2 with the number your USB drive has. Now type these commands one-by-one and press Enter after every command.
create partition primary
select partition 1
active
format fs=NTFS
Formatting may take a little time depending on the size of the drive.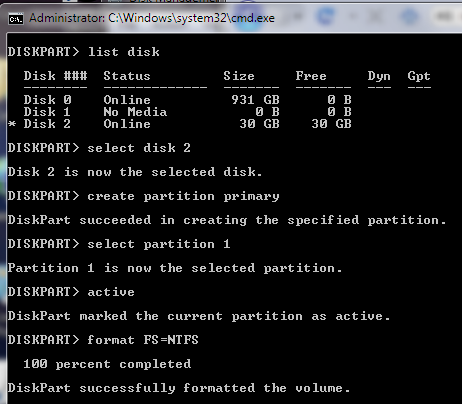 Step 5
After formatting is done, type assign and press Enter. Now exit DiskPart Utility by entering exit command. DO NOT close Command Prompt yet.
In command prompt go to your CD-Drive (in our case it is drive D:).
D:
cd boot
Now type following command for writing bootcode to USB drive.
bootsect /nt60 E:
(E: is drive letter of USB disk.)
Step 6
Now the USB drive has been made bootable, close Command Prompt and copy all Windows files from CD-Drive to USB drive.
Make Bootable USB using Command Prompt
Now you can install Windows from this USB drive. However, this method may not be feasible for everyone as not many people are handy with command prompt. For installing Windows from bootable USB drive, you have to setup your computer to boot from Removable Media i.e. USB drive. Check this tutorial for making necessary changes to BIOS settings.
You can also use Rufus to make bootable USB drive if you don't want to get your hands dirty with cmd commands. Check this tutorial to make bootable USB using Rufus.