The lockdown admid the ongoing Corona pandemic, has made people understand the importance of video conferencing software like Skype & Zoom. Most of the IT companies have asked the employees to work from home. One of the main resources people need for working from home is Laptop with webcam. Using webcam people can join video conferences & meetings from home. But due this sudden lockdown, many people have been locked in their homes without resources. For example, if you have a laptop without webcam or your have desktop computer but don't have webcam, then you can't do video conferences.
And with the lockdown in place in many countries, e-commerce companies can't deliver webcams and other electronic products. Also, the prices of webcams have gone high due short supply. In this situation, what can people do? Well, you still have one option – you can use your phone as a webcam video conferencing purposes. In this tutorial we are going to explain, how to use your Android phone as a webcam.
Use Android Phone as a Webcam for Streaming or Video Conferencing
There are many Android apps available which allow you to use your Android phone as webcam. However, DroidCam works really well and is free to use. It also doesn't put any watermark and allows you to use both the front and back camera on your Android smartphone in free version. However, premium version offers HD quality and better FPS support. The app is available for both Windows and Linux platforms, but not for macOS.
In this tutorial, we have used the wireless method. It's very easy to configure, compared to the wired method that requires ADB setup. However, for the wireless method to work, both your Android smartphone and PC should be connected to the same WiFi network.
Step 2
Now, open the DroidCam app on your Android smartphone. Here, you will see your WiFi IP address. You need to note them down. You can also go to the app settings and select your preferred camera options.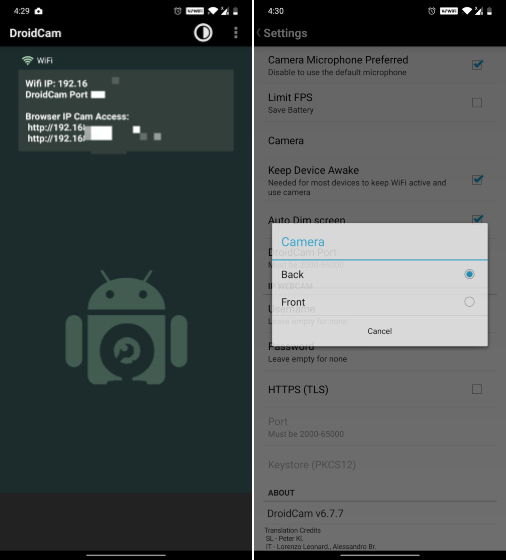 Step 3
Now open the desktop client on your computer and enter the WiFi IP address and DroidCam Port into the Device IP and DroidCam Port fields respectively. After that, enable both Video and Audio.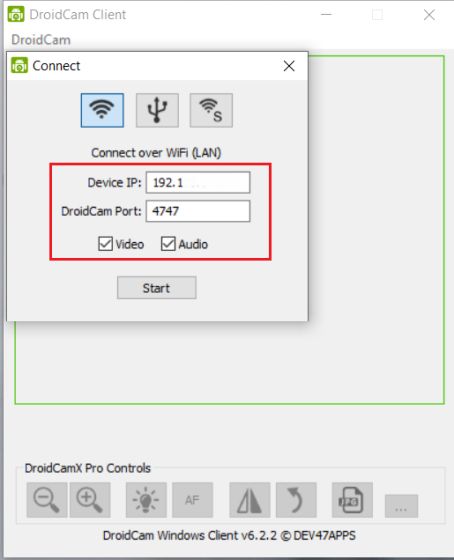 Step 4
Finally, click on the Start button to start the video preview on your computer. Your Android smartphone is now acting as a webcam. Best part is that you can minimize the app or lock the smartphone, but the video will still show on your computer.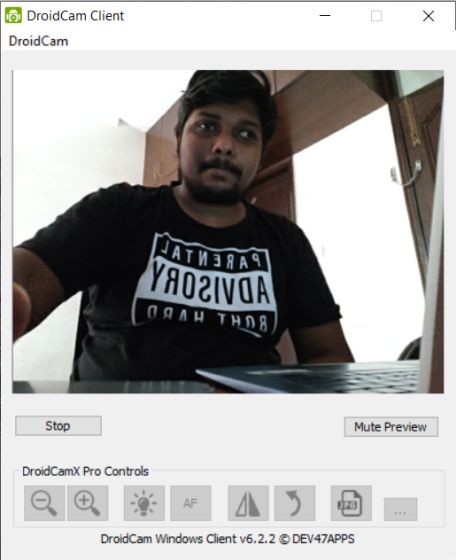 After configuring the Android device as a webcam, it's time to use it on video conferencing apps like Zoom, Skype, Microsoft Teams etc.
How to use Android Phone as Webcam on Zoom App
Open Settings in Zoom and go to the Video tab. Now, change the Camera from the drop-down menu to DroidCam Source 3/2. After that go to the Audio tab and change the Microphone to DroidCam Virtual Audio.
How to use Android Phone as webcam on Skype App
Similarly, on Skype, click on the 3-dot menu and go to Settings > Audio and Video. Here, you can change the Camera and Microphone to DroidCam Source 3/2.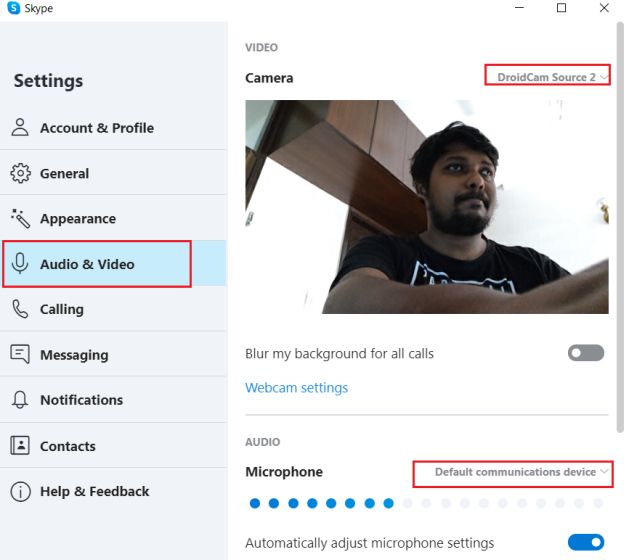 Use Android Phone as webcam for Video conferencing on Web
If, you are using video conferencing on a web browser, you need to change the webcam source from the address bar. For Zoom Web, click on the Webcam icon > Manage > Camera and select DroidCam Source 3/2 from the drop-down menu. Alternatively, you can also change the camera source from its own control at the bottom.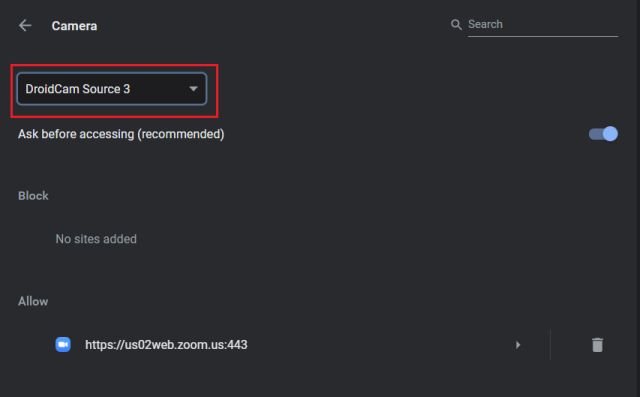 How to use Android Phone as webcam for Streaming
Step 1
If you are willing to use video feed from your smartphone while streaming games, you can easily do so using the DroidCam app. Just open OBS, XSplit, or your favorite live streaming program on your computer and click on on the [+] button and choose Video Capture Device. In this tutorial we are using the example of OBS.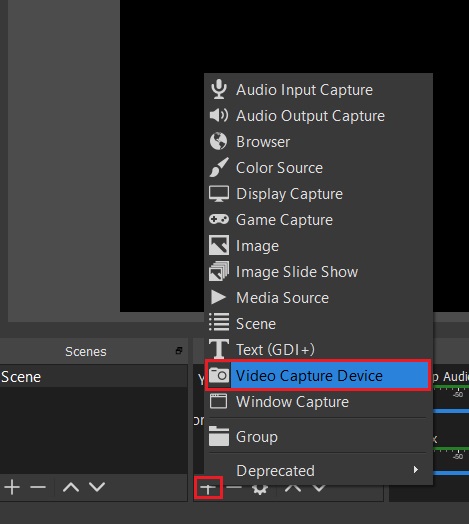 Step 2
After that, select DroidCam Source 3/2 as Device from the drop-down menu. After selecting the webcam, click OK and your live stream will start on OBS from your Android smartphone.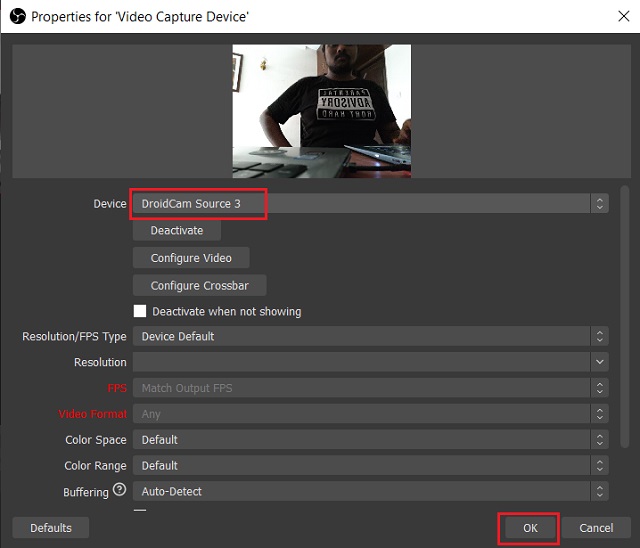 Use Your Android Device as a Webcam for Video Conferencing and Streaming
Above tutorial explained, how you can use your Android smartphone as a webcam for video conferencing and streaming. Using DroidCam app, you can use your Android smartphone for doing Video conferences using Zoom, Skype or any other collaborating app. Besides that, you can also use your phone as a webcam while streaming games on Twitch or YouTube. Hope you liked the tutorial. In case you are facing any problems while setting up your phone as a webcam, do let us know in the comment section down below.