The iPhone 12 is going to be such an extremely powerful speed monster that it will destroy any other 2020 cell phone, including the Android King of the Hill, the Samsung Galaxy S20 Ultra .
At least according to the evidence found on the Weibo social network by the ITHome technology publication , as the GizChina blog has collected .
According to information in the alleged Geekbench 5 tests, the rumored A14 Bionic processor on the iPhone 12 will run at 3.1GHz. According to previous rumors, the new CPU will be manufactured by Taiwanese chip forging TSMC using a 5-nanometer manufacturing process, something that will put it right on the border of what's possible in electronics with the limitations imposed by the laws of physics. Theoretically, chips cannot be made from 5 nanometers without the electron structures making them unable to function.
The results of these tests put the iPhone 12 on par with the latest iPad Pro, which smashed most PC and Mac laptops in absolute firepower. Take a look for yourselves: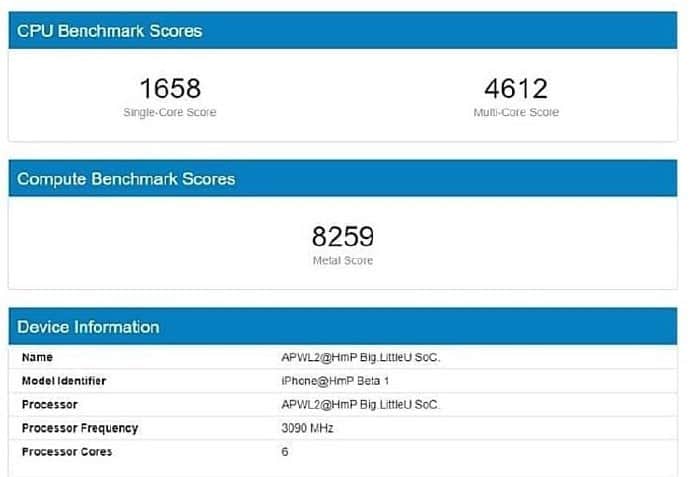 1,658 points in the single-core test and 4,612 points in the multi-core are almost impossible to believe for a device of this size.
Just compare it to the fastest Android of the moment with the Qualcomm Snapdragon 865 processor that all Android will use this year and the best technical features so far – the Samsung Galaxy S20 Ultra.
The fastest Android phone on earth for now only gets 805 in single-core and 3,076.7 in multi-core. That already put it below the A13 Bionic processor in the iPhone 11 (whose iPhone 11 Pro Max version is capable of obtaining 1,334 in single-core and 3,517 in multi-core), but the A14 totally pulverizes the Snapdragon 865 in the Galaxy S20 Ultra.
In single-core tests , the difference is more than double, with 853 points difference. In multi-core the difference is not so gigantic but it is still impressive: 1,536 points. If all this is true, it seems impossible that Qualcomm – or any other company – can reach Apple's mobile processors in the near, distant or medium-future future.
And although the abstract speed tests are not entirely representative of the day-to-day speed of a cell phone or computer – there are other factors to consider such as RAM, storage speed and optimization of the operating system (which also favors to iOS vs. Apple) – the absolute power difference is too big to ignore.
Like the iPad Pro, if the tests are real, the iPhone 12 will be able to use apps that require tremendous processing power – from gaming to high-definition video editing and hitherto unthinkable real-time photo effects – with a fluency that no Android of 2020 is going to be able to offer.
Get Latest Updates via Email