How to Use WhatsApp on Your Apple Watch
Apple Watch is one of the best smartwatches available in the market. Most of the useful apps that are available on iPhone or iPad are available for Apple Watch also. However, it is very surprising to know that WhatsApp doesn't have any official app for watchOS. So you can't officially use WhatsApp on Apple Watch. But there are still some ways using which you can use WhatsApp on your Apple Watch. In this tutorial we are going to show you how to use WhatsApp on your Apple Watch.
Use WatchChat 2 App for using WhatsApp on Apple Watch
There are multiple apps available on watchOS App Store which allow using WhatsApp on Apple Watch. However, we liked the WatchChat 2 app the most as it is the easiest one to use and we recommend you to use this app as well.
This app is like a browser for WhatsApp Web. It means that you can simply scan a QR code and connect the app to your WhatsApp account, but after that it's smooth sailing. Here are the steps you'll need to follow to install and set up WatchChat 2 app on your Apple Watch.
First Purchase and install WatchChat 2 app ($2.99 | ₹249) on your iPhone and Apple Watch.
Launch the app on your Apple Watch. You should see a QR code on your watch screen. If you don't see it, wait for 10-20 seconds, and then tap on 'Retry'.
On your iPhone, launch WhatsApp and go to 'Settings -> WhatsApp Web/Desktop -> Scan QR Code'. Now scan the QR code on your watch.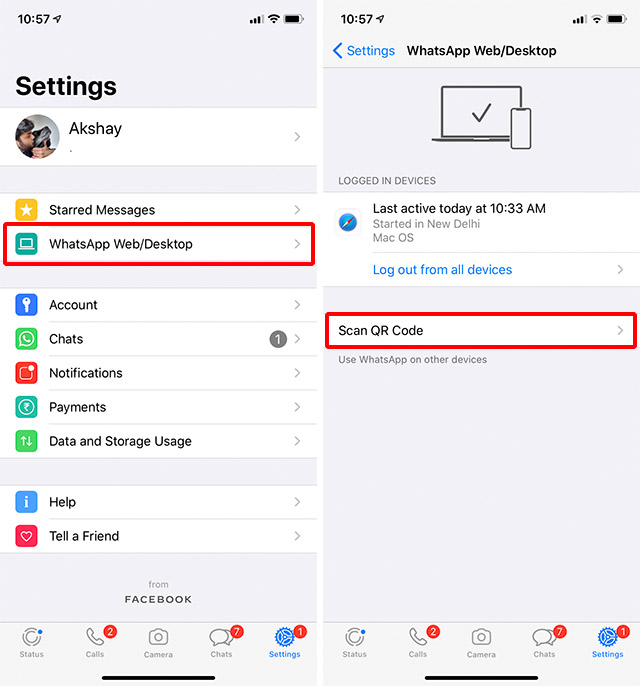 You will now see all your WhatsApp Chats right on your watch. Neat, right?
You may also like:
Features available in WatchChat 2
WatchChat 2 not only allows you to use WhatsApp on your Apple Watch, but also brings a whole host of features to WhatsApp on Apple Watch which makes it pretty awesome to use. Here are some of the best features.
1. Read and Reply to Messages
With WatchChat 2 you can reply to messages straight from your Apple Watch as well. Simply tap on the 'Keyboard' icon to type a message out. You can even hard-press to bring up the emoji selection screen and add emojis to your message.
It also has support for FlickType keyboard, which is an app I would recommend you download for sure, and of course, there are the quick-replies that you can use from within the app itself.
2. Start New Chats
WatchChat 2 also lets you start new chats if you want. You can simply hard-press on the screen and tap on 'Contacts' to search for the contact or group you want to send a message to and start a conversation. For example, the screenshot below shows me asking my colleagues to join me for a game of PUBG in our Quarantine group.
3. View Images and Videos
One of the things I really liked the most about WatchChat 2 is the fact that it lets you view images and watch videos you've received on WhatsApp, and in high resolution, which is great.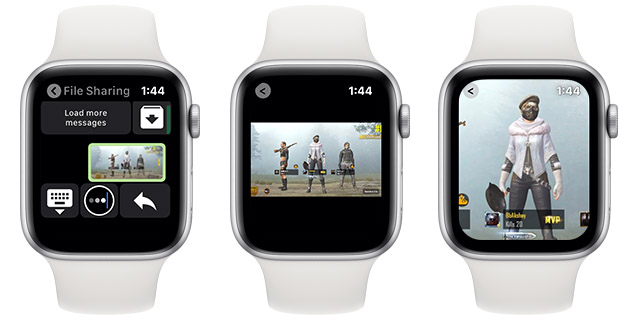 Use WhatsApp on Apple Watch with WatchChat 2
It is very surprising to know that WhatsApp still doesn't have an official app for the Apple Watch even though 'Facebook Messenger' has one. But great thing is that there are some great third party apps that allow to use WhatsApp on your Apple Watch. WatchChat 2 is not the only app that you can use for WhatsApp, there are other apps available as well, but this app is one of the best. Hope you liked the tutorial. Should you have any queries and suggestions, post them in comments below. Enjoy, have fun!