How to Change Video Background in Microsoft Teams
Zoom has taken lead in video conferencing in recent few months. And it has provided great video conferencing solutions for both individual users and enterprises. Microsoft has decided to not be left behind in this field. They are trying to implement most of Zoom features in their Video conferencing application i.e. Microsoft Teams. Following Zoom in providing Free Video conferencing services, Microsoft has announced Background Changing feature similar to virtual background feature in Zoom.
See Also: Download Free Custom Background Images for Zoom & Microsoft Teams
In this article we are going to show you how to use virtual background feature in Microsoft Teams. However, Microsoft has not announced custom background upload feature yet, but you can follow this tutorial to check how you can upload custom background image in Microsoft Teams unofficially.
How to Change Background in Microsoft Teams Video Conferencing
As announced by Microsoft, you can now change the background in Microsoft Teams jut like you do in Zoom. However, you can only use images as background as of now, not videos (—sad—). Another point, the feature is limited to Windows and macOS only currently. This feature is not available for mobile apps and the web version of Microsoft Teams, so, maybe it will be there in some time. You also need to update Microsoft Teams app to the latest version use this feature. You can download latest version from here.
Step 1
First of all, open Microsoft Teams App and move to the Calls or Chat menu and select your contacts. Click on video call button to place a call.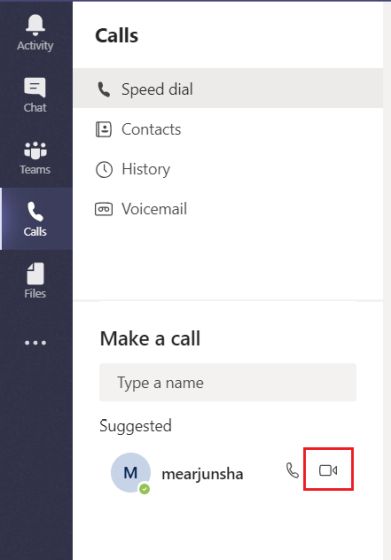 Step 2
Once the call is established, tap on the three-dot menu and open Show background effects.
Step 3
Now, you will be presented with the images to choose from by Microsoft on the right pane. Here, select the image and then click on Preview twice (there are some bugs) to get a sneak peek of the new background. After that, click on Apply and turn on video to apply the selected background image. And this is how you can change your background in Microsoft Teams.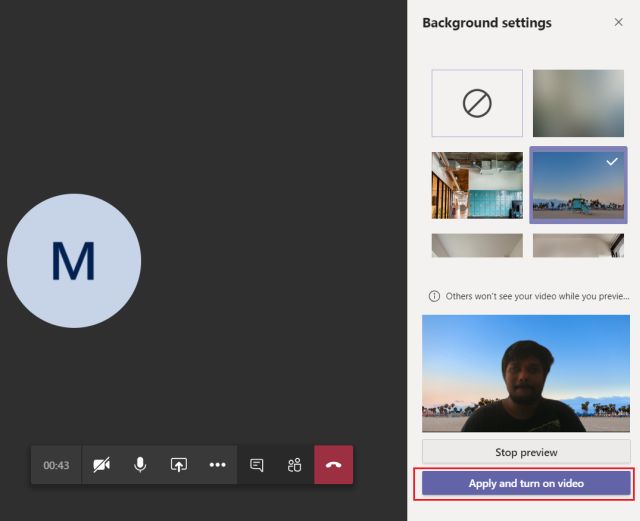 Step 4
You also have option to Blur the background instead of using virtual background image. In that case, simply select Blur background at the top and you are done.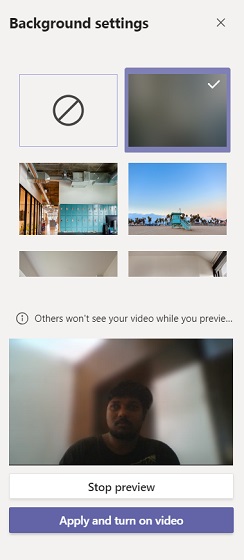 How to Upload Custom Backgrounds in Microsoft Teams
While announcing the background feature, Microsoft mentioned that for now, you can only change the background from the preloaded images on the Teams app. The ability to upload your own images will be coming in the future updates. However, there is a workaround using which you can access the feature right now. But this workaround is limited to Windows platform only. So, if you are a macOS user, you have to stick to preloaded images only.
Step 1
Open This PC or File Explorer window and paste the following path in the address bar and press Enter.
%APPDATA%\Microsoft\Teams\Backgrounds\Uploads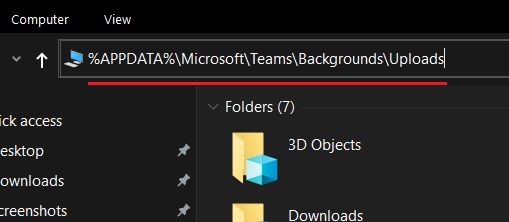 Step 2
As soon as you press Enter button, you will be taken to Microsoft Teams' Upload directory. Now, you can simply copy your custom images to the Upload folder and these images will appear as preloaded images in Microsoft Teams app.
Step 3
It's time to use these new images as Microsoft Team's background. Open the Microsoft Teams app and place a video call as you did in the first section. Then, click on Show background effects and scroll to the bottom in the right pane. Here, you will find the image that you just copied into the Upload folder. Now, simply click on the image that you would like to use custom background in Microsoft Teams.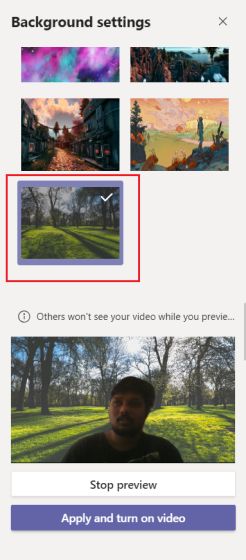 Use Microsoft Teams Background Feature and Have Fun
Above tutorial explained two ways of using the background feature in Microsoft Teams app. Either you can choose from provided default images or your can use your custom images as background in Microsoft Teams app. Though Microsoft has not announced custom background upload feature yet, but you can still use it via simple hack which has been explained above.
In our testing, the background feature in Microsoft Teams worked pretty well but it was surely not as smooth and distinguishable as Zoom. We hope Microsoft is going to make significant improvements in the Microsoft Teams App in future and will also bring this feature to Android and iOS as well. If you are having trouble uploading background images to Microsoft Teams, feel free to drop a comment below. We will definitely try to help you out. And if you are looking for a free alternative for Zoom, that does not require sign-up or app downloads, you can check Skype Meet Now.